FROM WHENCE WE CAME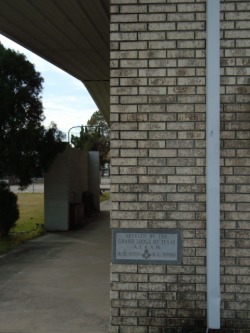 In March 1835, Anson Jones, John Wharton, Asa Brigham, James Phelps, and Alexander Russell, wishing to formally meet as an organized Masonic lodge, met under the Masonic Oak near the burial ground of General John Austin and petitioned the Grand Lodge of Louisiana for dispensation to organize a lodge in the Texas territory.

On December 27, 1835, the dispensation was granted and Holland Lodge #36 of Louisiana was instituted and opened on the second floor of the old courthouse in Brazoria, Texas. Meetings continued here until March 1836, when Brazoria was abandoned due to events related to the Texas Revolution. During this time, the official charter issued to Holland Lodge #36 was delivered to Texas and presented to Anson Jones just before the Battle of San Jacinto. This document arrived safely in Brazoria after the battle, but the brethren had dwindled in number post-revolution.

Original Brazoria Courthouse, from WA Chatham

In November 1837, Anson Jones assembled Masons living near Houston in the Senate Chamber of the original Capitol building (the site of the Rice Hotel and currently the Rice Lofts) and opened Holland Lodge regularly at this location until October 27, 1838. On November 13, 1837, the lodge appointed a committee to meet with members of Nacogdoches and San Augustine to organize the Grand Lodge of the Republic of Texas. This convention occurred on December 20, 1837 in the Senate Chamber meeting place, presided over by Sam Houston, and included representatives of Milam #40 and McFarland #41. The Grand Lodge's first session was opened on April 24, 1838 at which time Texas lodges were renumbered according to the dates of dispensation. Thus was established Holland Lodge #1, Milam Lodge #2, and McFarland Lodge #3.

It should be noted that Brother Anson Jones was the forth and final President of the Republic of Texas and was instrumental in Statehood for Texas.

Today there are over 90,000 Masons in Texas in more than 900 Lodges.


---